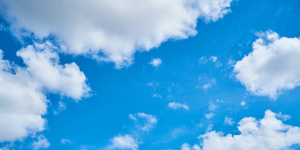 0:00/4:47

0:00/2:45

0:00/3:40

0:00/4:09

0:00/4:58

0:00/3:19
The proverb "Two's company, three's a crowd" might not always hold true. But with her new album, clarinetist Kristen Mather de Andrade certainly makes a case for the depth and complexity that can exist in the most personal of musical relationships: the duo. 
The album takes its title from the opening work, As Bright As The Skies Are Blue (2019-20). Written by Seattle-based composer David Reeves, and commissioned by Mather de Andrade, it pairs the clarinetist with a longtime friend and colleague in the West Point Band: percussionist David Bergman. 
The four-movement work, influenced by music and dance from four different regions of Africa, delights in pushing the limits of what is possible from a duo. In the clarinet part, the player must shape-shift quickly back and forth between melodic and rhythmic virtuosity. And in the percussion part, with its array of instruments, no limb goes unused. (It's not surprising that Reeves has a background in percussion.) 
Certain moments capture the wonderful simplicity of two voices in conversation, like the third-movement duet between clarinet and kalimba — part of a family of instruments traditional to Zimbabwe and characterized by a lovely metallic tone. Other musical exchanges add up to an impressive mosaic of colors. That's particularly true in the first movement, where you can be forgiven at times for picturing four players rather than two. 
That concept carries over to South African composer Surendran Reddy's solo clarinet piece Game 1 for Lîla. Written in 1996, it was inspired in part by feelings of joy and unity after the end of apartheid, but also by something more ordinary: the sight of a little girl practicing tennis by herself, hitting the ball against a wall.  
And so, he aimed to write what might be described as a duo for one: a solo piece that gives the impression of two instruments. Indeed, during one brilliant section, you get the sense of a higher voice keeping the beat, and a lower one dancing to it — something you may find irresistible to do yourself. 
The playlist comes to a conclusion with Santa Morena, a choro by 20th-century Brazilian composer and mandolinist Jacob do Bandolim (Mandolin Jacob). You don't earn that kind of stage name without a good measure of virtuosity — a quality of his playing for which he was famous, and one that is also abundantly clear in this lively, rhythmic piece. 
The spirit of duo collaboration is reflected not just in the performance, but also in the writing. Santa Morena is heard here in an arrangement by the players themselves: Mather de Andrade and seven-string guitarist César Garabini, who first collaborated with the clarinetist on her debut album, Clarão. Among the highlights of this arrangement are the inventively varied accompaniment and the atmospheric opening clarinet solo. Fittingly, that introduction includes a passage in which the clarinet seems to produce two notes at once. Another "duo" – and why not? 
-Jarrett Hoffman