"

Lovers of classical music are always searching for that special moment when something miraculous occurs... Just such a moment occurred when Kristen Mather de Andrade... set down her instrument and began to sing, in Portuguese, a Brazilian ballad called "Luar do Sertão." In this elegiac song, a homesick rustic tells city dwellers that they have never seen a beautiful moon because they have never seen it shining down on a pitch-black night in the countryside. The room fell silent when she began singing. Time stopped. Everyone in the room knew that something extraordinary was happening. " - Joe Queenan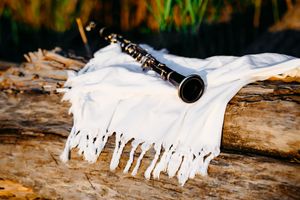 New York-based artist Kristen Mather de Andrade has immersed herself in a broad array of musical worlds and cultures, from the classical canon to world music, and beyond. Devoting time to both the worlds of clarinet and voice, Mather de Andrade has enjoyed a career of prime accolades and acclaim within her chosen musical paths, but these days music feels as vital as ever as she explores being a solo artist. This fresh outlet of releasing her own recorded music has been transformative, as Kristen is already releasing her sophomore album As Bright As The Skies Are Blue on the heels of her debut album Clarão (2021). 
Long inspired by Brazilian music and later married into the culture by way of her Brazilian spouse, Mather de Andrade, an American from the small rust-belt city of Youngstown, Ohio decided to follow her heart and record an album of Brazilian music. As the pandemic slowly began to loosen its grip in 2021, Mather de Andrade released her debut album Clarão, where she both plays clarinet and sings in Portuguese. The album was produced by Sergio Krakowski, and praised by the likes of Jazz Weekly and Connect Brazil. The idea to record an album of Brazilian music was rooted in the reaction to a performance of popular and regional Brazilian styles on a Facebook Live during the 2016 Olympic Games in Rio de Janeiro. The performance drew much attention from the country and resulted in a write up with the Brazilian national newspaper O Globo G1. Her next release Evergreen, a holiday EP, was released in late-2021 and gained traction through playlists in both the U.S. and Brazil, to include the Jazziz "New Release Cheat Sheet." 
Mather de Andrade earned a Bachelor of Music in clarinet performance after studying at the Dana School of Music. She later studied with famed Chicago Symphony principal clarinetist Larry Combs at DePaul University until being offered a position with the West Point Band. As the Principal Clarinetist and Soloist with the band, she has made a career of bringing music to a variety of communities from school auditoriums and veterans homes to the nation's most prestigious venues such as Carnegie Hall, Avery Fisher Hall, and The Kennedy Center. 
Singing was something she kept to herself until a 2006 appearance on an NPR game show, "Says You!" Encouraged by the response, she's been merging her voice and clarinet ever since. With the release of her debut album she received praise from Independent Artist Buzz describing her singing as "just as powerful as her clarinet." 
In 2016, Mather de Andrade earned a Master of Arts in education at Columbia University, and has taught master classes and professional clinics at universities and conservatories throughout the United States. When not performing with the West Point Band, she can be heard performing as a substitute musician with established classical music groups such as the Harlem Chamber Players, and the New Jersey Symphony Orchestra, to recording and performing with Classical, Jazz, and Brazilian musicians in the NYC metropolitan area.
"

...Côco Tara Tá Tá is beautifully done, and a treat to the ears. Beginning with a beautiful clarinet feature by Kristen, this song is upbeat and is sure to lighten the mood of any listener. A mostly instrumental track, it showcases each instrument beautifully without ever feeling overwhelming. A joyful group vocal repeating the songs title leads us out, interwoven with enticing clarinet melodies displaying Kristen's mastery of the instrument." - Jeremy Davis
"

...it is no wonder that Kristen Mather de Andrade is such an acclaimed clarinet player, with her solos adding a passionate flare to the instrumentation. "Côco Tara Tá Tá" is just what people need to get excited about more of the music Kristen Mather de Andrade will be putting out in the near future. " - Jane Lambert